Our role
The Neonatal Intensive Care Department cares for newborns who require specialised treatment and monitoring due to difficulties of cardiorespiratory adaptation, infections, congenital abnormalities or premature birth.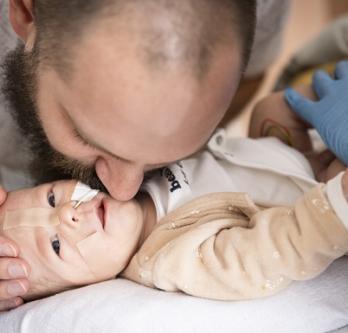 "The medical and nursing team is attentive to developmental care centred on the child and family. The care is adapted according to the rhythm and needs of the newborn. Parents play a central role through their presence, "skin to skin" contact and breastfeeding. A milk bank also makes it possible to conserve milk expressed at the hospital or at home that is not used immediately."
Our specialities
The Neonatal Intensive Care Department is careful to respect the best available standards and to draw maximum benefit from the focus on care quality and safety. One of its strengths is the multidisciplinary approach to complex pathologies when diagnosing, treating and following up  newborns, coupled with psychological and social support for the parents and family. 
The department cooperates closely with many other child medicine specialities (cardiology, nephrology, endocrinology, neurology, haemato-oncology, nutrition, surgery, anaesthesia, radiology, child psychology, etc.) 
The multidisciplinary approach begins during pregnancy thanks to collaboration with doctors specialising in maternal and foetal medicine at the Erasmus Hospital and the CHU Brugmann. This continues after hospitalisation through the multidisciplinary consultations at the Children's University Hospital (oesophageal atresia, congenital diaphragmatic hernia, bronchopulmonary dysplasia, follow-up of parents-child relationship) and at the Erasmus Hospital (follow-up of development in the case of extremely preterm births.) 
The Neonatal Intensive Care Department can count on the support of a liaison team. This permits the return home of newborns with severe illnesses or requiring specific care, under optimal conditions and according to a care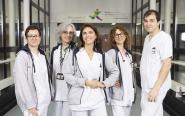 Research
The Neonatal Intensive Care Department has initiated a number of research projects: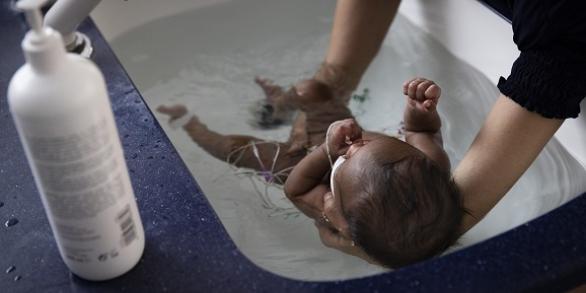 Teaching
The Neonatal Intensive Care Department contributes to the teaching at the Université libre de Bruxelles and at the Haute École Francisco Ferrer (updating of theory courses, bedside approach, simulation on dummies). The team also gives training in neonatal resuscitation and neonatal life support, supported by the 'European Resuscitation Council.
Focus
The Neonatal Intensive Care Department is a member of a number of hospital committees (ethics, transfusion, protocols, quality and safety).