Our role
The Intensive Care Department intervenes whenever a child is in a critical condition. This means that the child requires intensive monitoring or there is a need to compensate for one or more vital functions that are failing, such as the cardiac, kidney and/or respiratory function.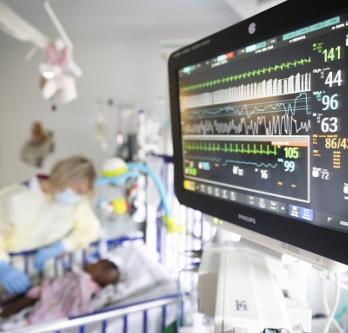 We work in multidisciplinary teams dedicated to the child and family. They are at the centre of our care. They are involved in all medical discussions and their opinion is systematically taken into account.
Our specialities
The HUDERF's Intensive Care Department (ICD) has a medico-surgical unit. This is one of four paediatric heat surgery centres in Belgium  
The Department has specific expertise in treating certain patients and pathologies:   
Children recovering from thoracoabdominal or heart surgery  
The Department is an ECMO centre with machines that can replace the heart and/or lung function, even for newborns.  
Serious burns patients, in cooperation with the Royal Military Hospital   
Neurosurgery, in cooperation with the Erasmus Hospital Neurosurgery Department within the H.U.B.   
Acute or chronic respiratory disease, including patients with neuromuscular disease who require home ventilation. The department has developed expertise in non-invasive and invasive ventilation as well as in respiratory physiotherapy by percussion   
Intensive care at the HUDERF makes it a point of honour to provide children with personalised psychological support. This can benefit all the child's close family members: parents, co-parents and (half-) brothers and (half-) sisters  
Parents can spend a maximum of time with their hospitalised child (at least one parent can remain 24/24 and sleep in the same room). The team instructs them on how to carry out activities with their child, even if the child has to remain in bed.   
Everything is in place so that hospitalised children can continue their schooling while in intensive care. A range of activities are also organised to entertain the child.   
Research
The department is very active in research, in particular in four principal areas: nutrition, coagulation and anticoagulants, blood transfusions and bedside ultrasound. To this end, the doctors cooperate internationally and are active within European intensive medicine networks   (ESPNIC, TAXI, PEACE, BLOODNET, etc.)    
Focus
The department is very active in the field of sustainability: many lines of inquiry are being pursued to reduce the day-to-day carbon footprint.