Our role
The clinic works in multidisciplinary teams consisting of doctors, dietitians, psychologists and a social worker. It cooperates closely with other sectors, especially in neuropaediatrics, genetics, gynaecology, etc.   
The Nutrition and Metabolism Clinic treats children as hospitalised patients and outpatients.  Its activity is concentrated in two major areas: 
Nutrition (specific needs of the growing child, adapting these needs to the underlying illness)   
Hereditary diseases of the metabolism
Our specialities
The clinic is a Belgian reference centre for the treatment of hereditary diseases of the metabolism, that is, diseases affecting the metabolism of small molecules, complex molecules or energy production. The team is trained in therapeutic education out of a desire to enable the patient and his or her family to take ownership of their care.     To ensure it always remains at the forefront of scientific and medical knowledge of these rare diseases, the clinic cooperates closely with national and international university centres.   
The clinic's nutrition activities are the following:   
Systematic screening of infantile malnutrition of all patients hospitalised at the HUDERF and treatment if required 
Consultation for patients suffering from malnutrition  
Nutritional support for children with chronic pathologies influencing diet and/or weight gain.   
Consultation for children with dietary aversions, orality problems or dietary behaviour problems.   
Consultation for children with a cerebral motor infirmity or neuromuscular pathology    
Being developed: consultation for children with a vegetarian or vegan diet or for sports-playing children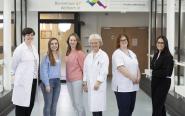 Our medical specialists
Focus
The Metabolism and Nutrition Clinic is active within European networks such as MetabERN (European Reference Network for rare or low prevalence complex diseases). It has also established strong links with the ULB's Paediatrics Laboratory and the ULB and VLB Brightcore Laboratory.   
Research
The clinic is involved in research projects on the following subjects: 
Participation in European registers to improve knowledge of these diseases and determine new treatment protocols   (E-IMD, EHOD, galnet, etc.) 
Tyrosinaemia 
Improving neonatal screening 
Treatments using enzyme replacement 
Orality problems in patients with metabolic diseases