Our role
The Physical Medicine and Rehabilitation Clinic diagnoses and treats pathologies of the neuro-locomotor system. It provides rehabilitation and re-education following illness, accident or surgery.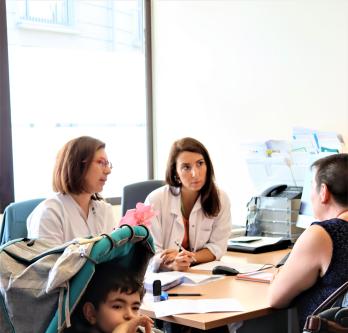 "The Physical Medicine Department is a transverse unit that cooperates on a multidisciplinary basis with various HUDERF departments such as Neurology, the Pain Clinic and Orthopaedic Surgery Department.    
We also work with the various paramedical teams to coordinate functional rehabilitation activities (physiotherapy, ergotherapy, speech therapy, psychology, social welfare, orthesist, nurses)" 
specialist in physical medicine and rehabilitation
Our specialities
The department is active in a number of key areas:  
Outpatient consultations 
Multidisciplinary functional rehabilitation for outpatients 
The prescribing of mobility aid in conjunction with ergotherapy.   
The Physical Medicine and Rehabilitation Department treats a large number of pathologies, such as: 
Pathologies of the locomotor system of mechanical origin 
Pathologies of the central and peripheral neurological system 
Functional disorders of diverse origin 
The team is also concerned with the medical aspects of social and professional reintegration such as the prescribing of aids and pain management.  
The team provides consultations in cooperation with other clinics:   
Multidisciplinary consultations for Cerebral Motor Infirmity in the framework of the CIRICU convention (Neurology team)  
Chronic pain consultations (Pain Resource Unit) 
Neuro-orthopaedic consultations encompassing the spasticity clinic, botulinum toxin injections and the movement analysis laboratory (cooperation with the HUB orthopaedics and neurosurgery team)
 More info : Secretariat Dr Lombardo Costanza ciricu [at] hubruxelles [dot] be (ciricu[at]hubruxelles[dot]be)
Mobility assistance
The Children's Hospital Physical Medicine and Rehabilitation Clinic offers a complex mobility and positioning assistance consultation. This consultation is aimed at patients who have difficulty moving around independently and who are requesting mobility assistance for the first time.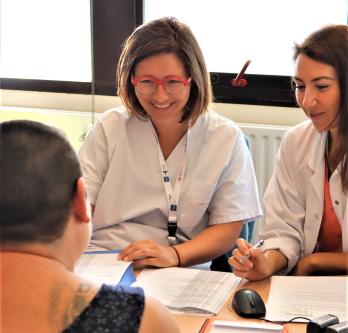 The medical and occupational therapy team you meet during their joint consultation assesses each patient individually, in order to :
give recommendations on positioning
advise on the choice of mobility assistance (wheelchairs, pushchairs, etc.) 
provide assistance with administrative procedures for mobility assistance (home-school accessibility)
liaise with the child's school environment 
facilitate contact with other health professionals or partners, such as bandage specialists
Consultations on mondays between 9h and 12h, Neurology department Route 40 
More info: Neurology department  +32(00)2 477 31 74  accueilRDV2 [at] hubruxelles [dot] be 
Dr Lombardo Costanza - specialist in physical medicine and rehabilitation 
Laure Bancourt - Ergotherapist
Marie Champaix- Ergotherapist
Focus
The clinic maintains inter-university collaborations in the framework of the ULB-VUB-ULg Reference Interuniversity Centre for Cereal Motor Infirmity (CIRICU) and the Belgian National Register of Cerebral Motor Infirmity (BeCPR).  
The clinic is a member of the European Academy of Childhood Disability  
Prevalence of cerebral palsy and factors associated with cerebral palsy subtype: A population-based study in Belgium
Authors: Evy Dhondt, Bernard Dan, Frank Plasschaert , Marc Degelaen , Charlotte Dielman , Delphine Dispa , Iulia Ebetiuc, Danielle Hasaerts , Sandra Kenis , Costanza Lombardo , Karine Pelc , Vanessa Wermenbol , Els Ortibus ; Belgian Cerebral Palsy Register
Journal: Eur J Paediatr Neurol . 2023 Jun 14;46:8-23. doi: 10.1016/j.ejpn.2023.06.003. Online ahead of print.