What is mucoviscidosis?
Cystic fibrosis, or mucoviscidosis, is a genetic disease that principally affects the respiratory and digestive systems.
This disease results in an abnormal production of mucous that is thick and sticky. This mucous clogs the respiratory tracts, favouring recurrent pulmonary infections and a progressive deterioration of the respiratory function. Cystic fibrosis also affects digestion, principally of fats, by disturbing the release of pancreatic enzymes. This can lead to digestive problems and poor nutriment absorption. Persons with cystic fibrosis require regular treatment, respiratory therapy and an adapted diet to manage symptoms and improve quality of life.   
Care
As one of seven Belgian reference centres for cystic fibrosis, the Children's Hospital has adopted a global therapeutic approach. A multidisciplinary team consisting of doctors, a nurse, a dietitian, a physiotherapist, a social worker, a psychologist, a pharmacist and a secretary work together to draw up a personalised treatment plan. This plan includes respiratory physiotherapy associated with a treatment with aerosols to help unblock the respiratory tracts and improve the pulmonary function, dietary recommendations and enzyme supplements to compensate for digestive problems and psychological and social support for patients and family. The pharmacist checks drug interactions and provides input for the right choice of antibiotics. The aim is also to learn to live with the illness. Since September 2022 new treatments that treat specifically the cause of the disease have enabled 85% of patients with cystic fibrosis to improve considerably their quality of life and life expectancy.   
The role of parents is essential in guaranteeing the day-to-day lifelong care required, including regular administration of medicines, respiratory physiotherapy sessions and the taking of nutritional supplements.   
Here is some advice: 
-  adopt rigorous hygiene practices to reduce the risk of infections; 
- encourage regular physical activity adapted to the child to favour the pulmonary function and strengthen the  muscles; 
- adopt a balanced diet by following the dietitian's recommendations;   
-  provide a healthy environment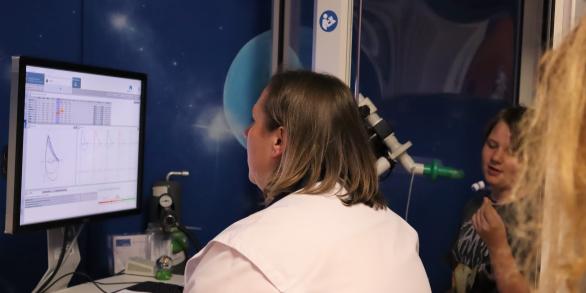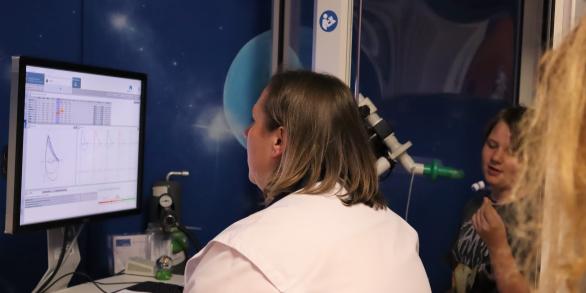 Focus
Since July 2017 patients no longer have to wait in the waiting room. On arrival, the patient goes straight to one of the consultation rooms where he or she is seen in turn by the various members of staff. The consultation lasts no more than an hour and a half and the risk of cross infection is consequently reduced.
Education : There is a continuous effort to improve the knowledge and skills of patients and parents through the various programmes put into place by the multidisciplinary teams, using resources such as video clips, brochures and practical workshops.   
Sport is very much a part of the day-to-day care. The "Just Move it ..., Move it" programme makes cystic fibrosis patients aware of the health benefits of sport.  
Diet : Video clips of the "Muco diet 2.0" programme have been produced to make cystic fibrosis patients more aware of the importance of diet. These can be viewed on the tablets at the time of consultations.