A new environment for 3 children's psychiatric units inaugurated this friday at the HUDERF
Image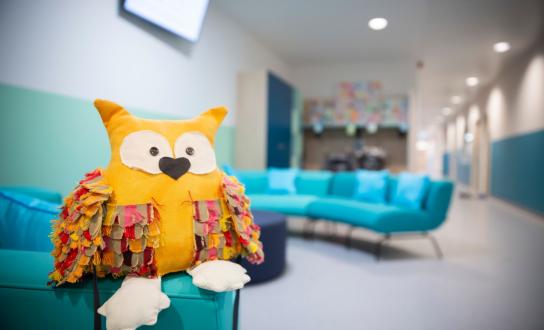 A vision of quality care for the child, adolescent and family in a warm and welcoming environment
Brussels, 23/09/2022 – The Psychiatric Department for babies, children, adolescents and young adults at the Brussels University Hospital (H.U.B.) – Laeken site (HUDERF) is inaugurating its new infrastructures in Laeken (Pr. Vis building) for 3 units created in 2015. A symbolic moment after two years dominated by Covid-19 that enabled the teams from the Children's Psychiatric Hospitalisation Unit, the APPI Unit for early individualised autism care and the Parents-Baby Unit to welcome mental health professionals and their partners for a guided visit. 
A part of the HUB's new University Expert Centre for Child and Adolescent Psychiatry, the teams from the HUDERF's Children's Psychiatric Hospitalisation Unit and APPI and Parents-Baby day units presented with enthusiasm, this Friday, their device for original care at an inauguration that had been delayed due to the pandemic.  The occasion for Professor   Véronique Delvenne, Head of Department, to stress the importance of these devices within the Brussels and Belgian French-speaking care networks, against a background of growing demand for mental health care for children and adolescents, aggravated by the Covid crisis and confinement. 
 "Over the past several years we have seen an increase in demand for mental health care for children and adolescents. The WHO had already anticipated in its 2013-2020 annual report, thus prior to Covid, a 50% increase over the next 10 years. This represents a colossal challenge. With the improvement in living conditions and in health in general, the well-being of children has become a priority for many parents," explains Professor Delvenne.    "Recent crises have resulted in a more fragile society. The level of anxiety, fear and psychological discomfort has increased significantly, among young people in particular.   Already precarious family situations have reached breaking point as already present elements of tension have increased, sometimes resulting in emergency situations." 
 The aim is to provide quality care, within multidisciplinary teams, as part of a global vision of the child and those close to the child in which young people with psychiatric problems and their families are central and that takes into account all the etiopathogenic dimensions, namely the study of the cause, nature and symptoms of a pathology. "Hospital care must be combined with outpatient care and the front line where the identification and early treatment of problems represents a genuine challenge. It must support its partners in treating acute, severe and complex problems and in preventing complications and relapse. As a university device, our department plays an important role in also contributing to vocational training and supports the development of knowledge through research," concludes Professor Delvenne.