Our role
The Paediatric Ophthalmology Department treats the ophthalmological problems of children from birth to the age of 16 and from screening to treatment (glasses, drugs, surgery, etc.).
"Our team is one of the biggest in Belgium. Each of our ophthalmologists possesses specific expertise, enabling us to treat a wide range of eye diseases. From the simplest to the most complex."
Our specialities
The Paediatric Ophthalmology Department offers a variety of consultations:  
Consultations for screening and diagnosis relating to vision problems such as refractive error and strabismus  
Consultations adapted for children with a vision deficiency in cooperation with vision deficiency rehabilitation centres  
Specialised ophthalmo-genetic consultations. In this case the team cooperates with Belgian and international genetic centres  
The department is specialised in:
Surgery for strabismus, lacrimal duct pathologies and abnormalities of the pupil during day hospitalisation
Cataract and congenital glaucoma surgery
Treatment of rare eye diseases
Congenital ocular malformations 
Inflammatory eye complaints such as conjunctivitis and uveitis.
Screening  for retinopathy of prematurity  
Treatment of ophthalmological complaints in children with Down Syndrome  
Finally, the department has recognised expertise in hereditary and non-hereditary pathologies of the retina and optic nerve.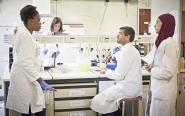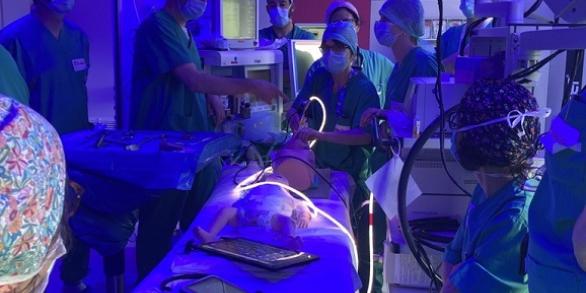 Teaching
The department welcomes trainee doctors and medical and orthoptics students as interns.
Focus
The department offers treatment for children presenting a strabismus with very close follow-up thanks to the close cooperation with a team of orthoptists and ophthalmologists specialised in strabismus.
Neuro-Ophthalmological Manifestations in Children with Down Syndrome: Current Perspectives.
Authors : Postolache L, Monier A, Lhoir S.
Journal : Eye Brain. 2021 Jul 21;13:193-203. doi: 10.2147/EB.S319817. PMID: 34321946; PMCID: PMC8311006.
Abnormalities of the Optic Nerve in Down Syndrome and Associations With Visual Acuity
Author : Postolache L.
Journal : Front Neurol. 2019 Jun 14;10:633. doi: 10.3389/fneur.2019.00633. PMID: 31258511; PMCID: PMC6587677.
Brushfield spots and Wölfflin nodules unveiled in dark irides using near-infrared light.
Authors : Postolache L, Parsa CF.
Journal : Sci Rep. 2018 Dec 21;8(1):18040. doi: 10.1038/s41598-018-36348-6. PMID: 30575783; PMCID: PMC6303377. 
Subtle Combined Hamartoma of the Retina and Retinal Pigment Epithelium Causing Recurrent Exodeviation.
Authors : Abramowicz S, Delvaulx P, Delle Fave MM, Le Roux P, Buisseret D, Postolache L. 
Journal : Case Rep Ophthalmol. 2022 Apr 22;13(1):305-312. doi: 10.1159/000524074. PMID: 35702519; PMCID: PMC9149484.