Our role
The department carries out its surgery at 2 sites: its principal HUDERF site and a second site at the Erasmus Hospital.   
To guarantee an optimal multidisciplinary care, the team cooperates closely with the various paediatric specialities as well as with all the care teams  
The Paediatric Surgery Department provides high quality global care for the child in various sectors of paediatric visceral surgery such as neonatal surgery, urological surgery, oncological surgery and kidney transplant
Our specialities
The Paediatric Surgery Department performs surgery in connection with the following pathologies:   
Digestive and urological abdominal pathologies, pathologies of the abdominal wall and inguinal region 
Complex congenital malformations in newborns  
Oncological pathologies. The team acts both to make a diagnosis (biopsy, for example) and to provide treatment (placing of central catheters, resection of tumours, etc.)   
Pathologies of the gall bladder and the spleen 
Kidney diseases; the department's paediatric kidney transplant activity is one of the most important in Belgium.   
The department treats morbid obesity in children and adolescents at the Junior Weight Centre, including obesity surgery 
The department has come to specialise in surgery on children using procedures that are the least invasive possible, namely coelioscopy and thoracoscopy, as well as robotic surgery  
The department is interested in the contribution artificial intelligence can make to surgery, especially for carrying out hybrid procedures combining mini-invasive surgery, robotics, medical imaging and new methods of fluorescence-guided surgery.    
The HUDERF's surgery services and the Erasmus Hospital work closely together to ensure an optimal follow up of complex pathologies throughout the patient's life by effecting a "transition" from paediatric care to adult care.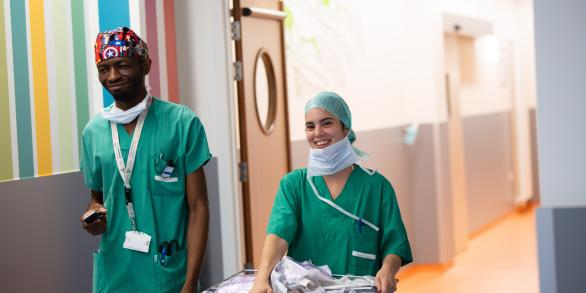 Focus
To improve care for children with rare and complex diseases and make its expertise available in very specific fields, the department has developed a network of cooperation with partner hospitals:   Saint Pierre Hospital, Namur UH and Marie Curie Hospital.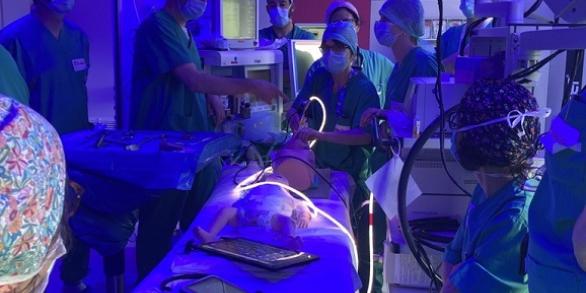 Teaching
The department plays a key role in teaching master's courses for medical students, including for the certificate of paediatrics, as well as for doctors following surgery training.   
The department has put into place new teaching methods to teach surgical methods using high fidelity intervention simulators (Lapmentor et Virtamed) at the HUDERF and on the ULB campus at the SimLabs.