Missions
The Queen Fabiola Children's University Hospital (HUDERF) is the only Belgian hospital dedicated exclusively to children and adolescents. In making every effort to ensure the well-being of the child, our hospital helps the patent become the main actor in his or her own development and fulfilment in society.   
The hospital pursues three essential missions:  
To treat and support the child, the adolescent and family through global, multidisciplinary and humanist care governed by excellence.   

To provide high level teaching and research through a continuous process of innovation and knowledge development.   
To contribute actively to health education.   
As a university hospital, the Children's Hospital is founded on three pillars: care, research and teaching.   
Care  
Infancy, childhood and adolescence require specific and adapted care. In fulfilling this essential mission, on which all our skills are focused, the teams at the Queen Fabiola Children's University Hospital spare no effort in providing children and adolescents with the highest quality care throughout their care pathway, from diagnosis to treatment and follow-up, in real partnership with the patients and their family.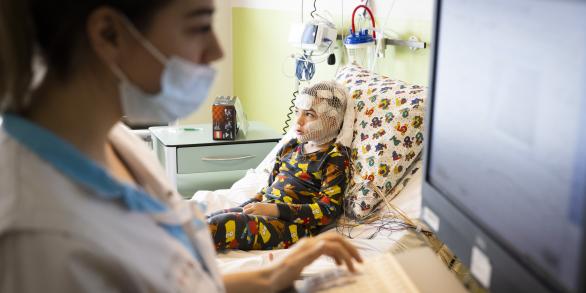 Research  
Academic, clinical and fundamental research make it possible to achieve progress in scientific, medical and technological knowledge in all fields of health. At the Queen Fabiola Children's University Hospital the search for innovative therapies favours the effectiveness and diversity of the treatment provided.    
Teaching  
The role of the HUDERF, as a university hospital, is also to contribute actively to the transmission of know-how and skills. Our teams work to enrich and perfect patient care through quality teaching. All the health professionals are taught on site, in close contact with the medical teams and patients.