Our role
The Diabetes Clinic is a part of the Endocrinology, Diabetes and Metabolic Diseases (EDM) and Child Nutrition service. The Paediatric Diabetes Clinic at the Children's Hospital treats all forms of diabetes that affect the child and adolescent.   
Created in 1997, HUDERF's Paediatric Diabetes Clinic is today the largest clinic of its kind in Belgium, welcoming more than 650 children and adolescents with diabetes. The multidisciplinary diabetes team provides regular follow up, gives educational courses and provides necessary advice to children and their families. In this way the team ensures the well-being and health of diabetic children while helping them to live a full life.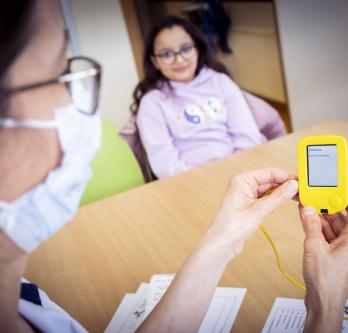 We seek to ensure an optimal quality of life for all the children so that they can become fulfilled adults free of complications linked to their diabetes.   
Our specialities
The Queen Fabiola University Children's Hospital (HUDERF) is "the ULB Reference Centre for Diabetes."   
The University Children's Hospital has Belgium's largest diabetes clinic whose high quality care is recognised by international scientific bodies. At paediatric diabetes centres patients can obtain free of charge the equipment that is essential for their treatment and the support of nurses specialised in paediatrics and diabetes, a psychologist, dietitians and a social worker.   
The aim is to provide:     
 an understanding of the illness,  

 well informed decisions regarding treatment,  

 monitoring of symptoms  

 recognition of warning signs.  
This process/programme is progressive and adapted to each patient with the aim of favouring autonomy and teaching patients and family how to manage their illness autonomously. The Paediatric Diabetes Clinic treats all kinds of diabetes affecting children and adolescents: type 1, type 2, MODY, medically induced.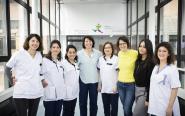 Nos médecins spécialistes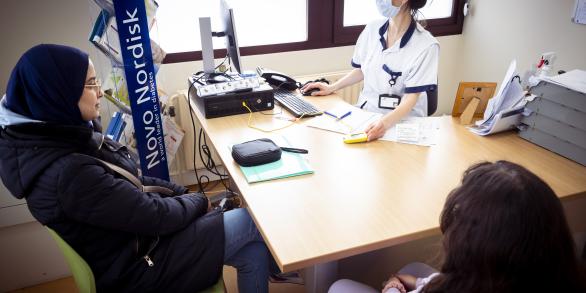 Focus
Patient partners  
All patients with inaugural diabetes are seen every day by senior doctors from the unit and the various members of the multidisciplinary team, from their arrival at the hospital until their return home. The entire team is committed to providing excellence of care for their young patients and future adults. Within the clinic, the patient and patient's family are genuine partners in the choice of treatment.
Research
As a reference centre, the Diabetes Clinic also engages in clinical research and helps improve care and treatment for children with diabetes.   
Technologies:   
The hospital is equipped  with the most advanced technologies for the diagnosis and follow up of diabetes patients with, for example, external insulin pumps connected to blood glucose sensors in real time ("semi-closed loop system"), continuous blood glucose monitoring systems, connected pens, etc.    
Protocols :  
The Diabetes Clinic participates in a number of research protocols with various national groups, such as BESPEED (BElgian Study Group for PEdiatric Endocrinology and Diabetology), and the RBD (Registre Belge du Diabète), and European groups such as ISPAD and ESPE.  
Surveys:  
The Diabetes Clinic participates regularly in quality surveys, carried out by the Health FPS (Federal Public Service] Sciensano to improve care for young people with type 1 diabetes (IPQEAD survey). Therapeutic workshops are organised and, depending on the subject, bring together adolescents or children with 2 members of the team.   
Focus
Transition to adulthood 
For young patients at the University Children's Hospital the transition to adult care is a crucial period. It is accompanied by a personalised transition programme that aims to ensure continuity of care, entrusted to our favoured partner: The Adult Diabetes Clinic at the Erasmus Hospital. Joint consultations with paediatric and adult doctors are held regularly.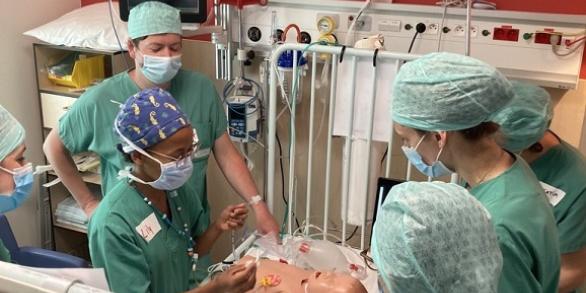 Teaching
As part of their medical and paediatrics training, students can attend consultations and are therefore made aware of the particularities of diabetes care. Students from the schools of nursing and dietetics are also welcomed as interns. The doctors give regular courses for medical, nursing and dietitian students. 
Anti-SARS-CoV-2 antibodies in new-onset type 1 diabetes in children during pandemic in Belgium
Auteurs : Messaaoui A, Hajselova L, Tenoutasse S
Journal : J Pediatr Endocrinol Metab. 2021 Jul 20;34(10):1319-1322. 
Comparison Between Continuous Versus Flash Glucose Monitoring in Children, Adolescents, and Young Adults with Type 1 Diabetes: An 8-Week Prospective Randomized Trial
Auteurs : Messaaoui A, Tenoutasse S, Hajselova L, Crenier L.
Journal : Diabetes Ther. 2022 Sep;13(9):1671-1681 
Diabetic ketoacidosis in children newly diagnosed with type 1 diabetes mellitus: Role of demographic, clinical, and biochemical features along with genetic and immunological markers as risk factors. A 20-year experience in a tertiary Belgian center
Auteurs : Vicinanza A, Messaaoui A, Tenoutasse S, Dorchy H.
Journal : Pediatr Diabetes. 2019 Aug;20(5):584-593. 
CTLA4, SH2B3, and CLEC16A diversely affect the progression of early islet autoimmunity in relatives of Type 1 diabetes patients.
Auteurs : Vandewalle J, Desouter AK, Van der Auwera BJ, Tenoutasse S, Gillard P, De Block C, Keymeulen B, Gorus FK, Van de Casteele M; Belgian Diabetes Registry.
Journal : Clin Exp Immunol. 2023 Mar 24;211(3):224-232.